Enjoy Shade and Shelter with a Quality Bimini Top
BoatCoversDirect offers Bimini tops for all styles and sizes of boats, made by quality manufacturers. Explore our extensive selection. We offer free shipping on orders over $100 in the contiguous U.S.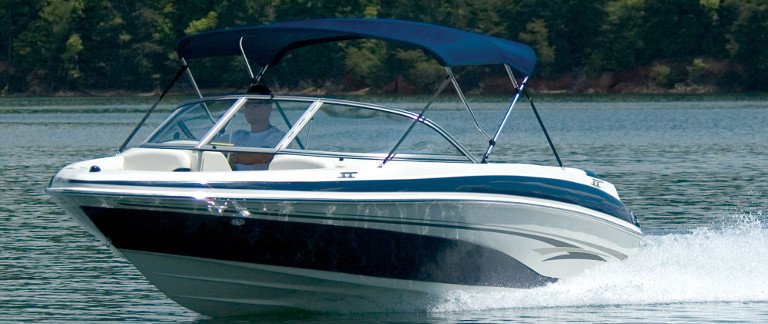 Bimini Tops for Every Boat
Because our Bimini tops are custom-made, we offer Bimini tops for every boat from the high-quality manufacturer Carver Industries. Our Bimini tops are guaranteed to fit your boat, and are available in a wide variety of materials, including Sunbrella and Sun-DURA.
Popular Bimini Top Fabrics
Protect yourself and your boat equipment from UV rays and rain.
Benefits of Bimini Tops
Bimini tops are the perfect way to enjoy extra time out on the water when the sun gets too intense or when an unexpected rain shower pops up. Boat owners enjoy many benefits of using a Bimini top, including: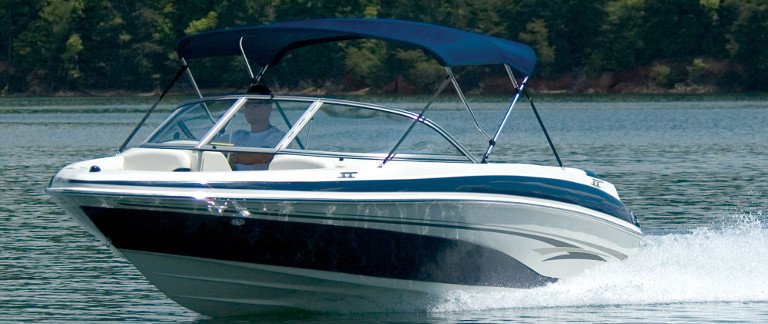 Shade to protect you, your friends, and your family family
Shelter from rain showers
Prevents sun damage to your equipment
Provides protection without enclosing the entire boat, allowing a full view
Bimini tops increase your boating pleasure, serving several practical purposes at the same time.
What Our Customers Are Saying
The Bimini arrived before the delivery date and everything was included (fittings, cover, instructions etc.). I'm absolutely thrilled with the quality, ease of assembly, functionality and the beautiful burgundy colour. I've already recommended the company to others! - Tanis T
Exactly as advertised and easy to install. Glad to support a company that produces and employs in the U.S.A. - Angelo
Excellent customer service which is especially important when importing it to Canada. Top notch product and service. - Kelly P.
Bimini Top FAQs
When shopping for a bimini top (especially for the first time) there can be a lot to consider. Here are answers to the questions we hear most frequently.
What is a Bimini Cover for a Boat?
A Bimini cover, or Bimini top is a canvas top that covers the boat's helmsman. Some biminis may extend further, offering additional coverage. Bimini tops may have two, three, or four bows running through the top of the canvas. They come in a variety of materials, including vinyl, PolyGuard, and Sunbrella, which fit over a stainless steel or aluminum frame.
How Do I Choose a Bimini Top?
There are several factors to consider when choosing a Bimini top. First, you'll need to decide if you need a stainless steel or an aluminum frame. Aluminum is lighter, but stainless steel holds up better to salt water. Next, decide what type of material you need. Specially-treated canvas, polyester, and acrylic fabrics all have their own unique benefits. Carver offers a range of materials, including Sunbrella, Sun-DURA, and Vinyl.
How Do I Measure My Boat for a Bimini Top?
To determine what size your Bimini top should be, you'll need to first consider what portion of the boat you would like to cover. You should measure from the main mounting point, where the center of the Bimini top will be. To find the width, measure across your boat from side to side at the points where the Bimini top will be mounted. Finally, measure the distance in height from the mounting points to the height you want your Bimini top to be. Keep in mind that the higher the top, the less shade it will provide.
What is a 4-Bow Bimini Top?
Bows provide structural support for Bimini tops. Bimini tops are available in 2-bow, 3-bow, and 4-bow configurations. 4-bow Bimini tops are used on large tops like those that cover pontoons. They have four ribs, or bows, that span the Bimini top.
How Do You Measure for a Bimini Top Replacement?
If you already have a frame and you simply need to replace the material covering it, you'll need to measure the frame to make sure your new Bimini top cover fits precisely. Measure your Bimini top frame while it is fully deployed. Note that this measurement should be taken over top of the frame in a straight line, from the first bow to the last bow.
What are Bimini Tops Made Of?
Bimini tops come in a variety of materials. Carver offers four types of materials. Sun-DURA, a 100% solution-dyed polyester that's made to resist fading, it is water-repellent and UV-resistant. Sunbrella is a premier material in the marine industry that's 100% solution-dyed acrylic, offering 98% complete sun block, water repellency, breathability, and mildew resistance. Poly-Guard is 100% marine-grade polyester and is water repellent and UV resistant. Vinyl is the heaviest fabric and is considered weatherproof with water repellency and UV resistance.
Are Bimini Tops Waterproof?
Completely waterproof Bimini tops are not recommended, since they breed mold in the nooks and crannies. Your Bimini top should be made of a water-resistant material that's also breathable. All of our Bimini top covers are made of water-resistant yet breathable materials.