Quality Golf Cart Covers For All-Weather Protection
RVCoversDirect now offers covers for golf carts to help you keep your golf cart looking pristine. We offer free shipping on orders over $100 in the contiguous U.S.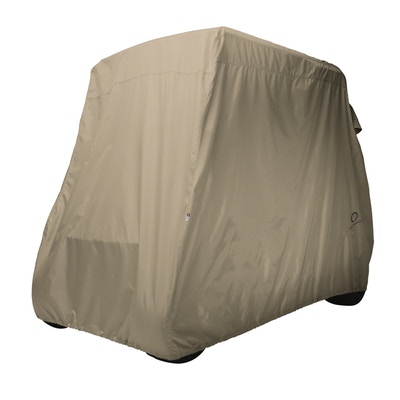 Protect Your Golf Cart from Harmful Environmental Hazards
Covers in Performance Materials Offer Excellent Protection
Benefits of Golf Cart Covers
Golf cart covers are the perfect solution for keeping your golf cart looking newer, longer. When you're not using your golf cart for cruising the neighborhood or on the fairway, there are many benefits to using a cover, including:
Protection from UV rays, which can cause fading and cracking of seats
Buffer from ice and snow, which can damage the finish and interior
Shield against tree sap and bird droppings
Defense against your pets' claws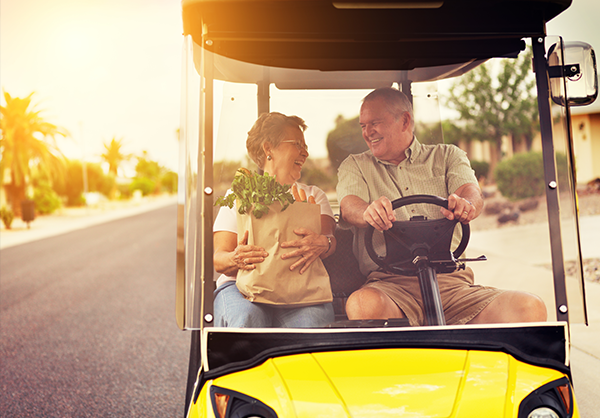 What Our Customers Are Saying
Excellent cover super fast shipping highly recommend - Manfred H.
Great customer service with great prices compared elsewhere. - Richard M
My order came in a timely manner and was a perfect fit. The price was very reasonable also. - Paul Y
Golf Cart Cover FAQs
You probably have a few questions as you're shopping for a golf cart cover. Here, we're covering the most common questions we receive about golf cart covers.
Do I Need a Golf Cart Cover?
Covers shield your golf cart from damaging UV rays, moisture buildup, tree sap, and other environmental hazards that can affect appearance and performance. Whether you store your golf cart indoors or outside, a cover is an easy way to protect your investment.
What Brand of Golf Cart Covers Do You Offer?
We carry Carver golf cart covers that are made from a soft, lightweight, high-quality material that is water repellent, UV resistant, and breathable. Our covers will fit 2- and 4-seater golf carts with or without roof-mounted accessories. If your golf cart is larger, or custom-built, we also offers custom golf cart covers by Carver.
What Materials are Your Golf Cart Covers Made Of?
Carver golf cart covers are made from PolyGuard material, which is a durable 100% marine-grade polyester. This material is water repellent, UV resistant, and breathable. It offers powerful all-weather protection while being lightweight and easy-to-handle. It comes with a 5-year guarantee.