Top-Quality PWC Covers for Yamaha, Kawasaki, and Sea-Doo
BoatCoversDirect now offers covers for PWCs like Jet Ski and WaveRunner! We offer free shipping on orders over $100 in the contiguous U.S.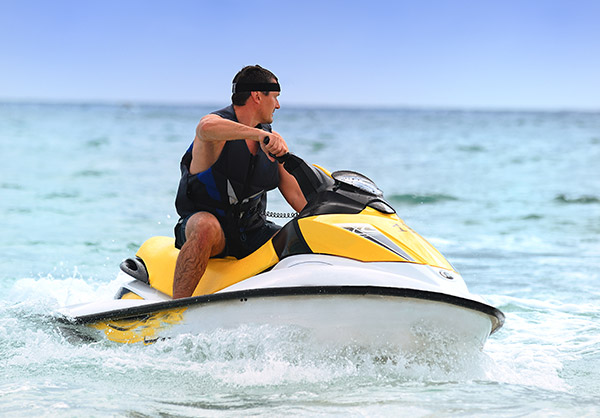 Perfectly-Fitting PWC Covers in Top-Quality Materials
Because our PWC covers are custom-made, we guarantee a perfect fit. We offer covers for every type of PWC from top manufacturers Carver, Covercraft, and Westland. PWC covers are available in a wide variety of materials, including Sunbrella, Sun-DURA, Sharkskin, Ultratect, and Poly-Guard.
Benefits of PWC Covers
There are many reasons to use a PWC cover, which will keep your Jet Ski or other PWC looking and working its best for longer.
Protection from damaging UV rays
Defense against tree sap and bird droppings while not in use
Shield from sharp cat claws
Reduce the chance of theft
What Our Customers Are Saying
Cover fit perfect. Would recommend to others. Very easy to install. Great material. - James T
All good. Good price, easy order, fast shipping. Hit all marks. - Glenn K
These two covers are really great. More than I expected after reviewing so many on the net. - Gary A
PWC Cover FAQs
Have questions about PWC covers? You're not alone. Below, we're covering the most common questions we receive.
Do I Need a PWC Cover?

Whether you're storing your PWC on a trailer, at the dock, or in a storage facility, there are hazards that can cause damage to your watercraft. A PWC cover is designed to protect your Jet Ski from UV damage, air pollutants, tree sap, and other environmental elements that can damage your finish. Covers also have been proven to deter theft. A cover is a low cost way to protect your PWC.
What Brands of PWC Covers are the Best?
We recommend three top-quality PWC cover manufacturers: Carver, Westland, and Covercraft. Each of these manufacturers have decades of experience manufacturing covers for all sorts of water vessels, from PWCs to large boats. Their experience has resulted in excellent design and durable construction using performance materials.
What Materials are PWC Covers Made Of?
Carver covers are available in Poly-Guard and Sun-DURA, both of which are breathable, water repellent, and UV resistant. Poly-Guard is slightly more breathable, and Sun-DURA is slightly more water repellent and UV resistant. Covercraft covers are available in Sunbrella or Ultratect for supreme all-weather protection. Sunbrella is designed for the ultimate UV protection, and Ultratect is designed for the best water repellency. Westland covers come in Sharkskin Supreme, a lightweight and durable material ideal for heavy rain, and also Sunbrella.
How Do I Know My PWC Cover Will Fit?
Our PWC covers are custom cut for your PWC's specific make, model, and year, ensuring a perfect fit. You can also shop according to your PWC's measurements.
Which PWC Cover is Best for Trailering?
We recommend Covercraft covers for trailering. These covers include trailering extras like reflexite safety strips (for extra warning notice when the PWC is moored or on a trailer), mesh bag, zippered gas cap, and zippered access for vest and wetsuit storage.