Custom-Crafted Pontoon Boat Covers Made from Durable Materials
Our high-quality Pontoon covers are guaranteed to fit, giving you peace of mind when ordering. Enjoy free shipping in the contiguous U.S. on orders over $100.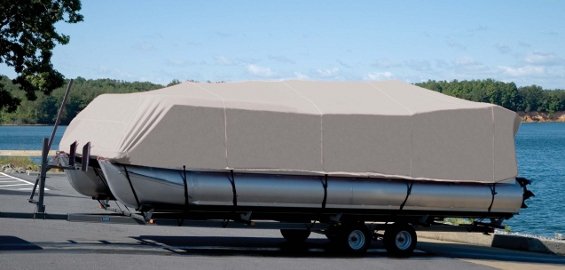 Pontoon Covers
Get a guaranteed fit cover for your Pontoon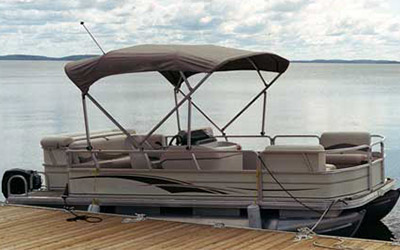 Covers in High-Quality Materials for the Best Protection
Our pontoon covers are available in a variety of materials: Cotton Duck, Poly-Cotton, PolyGuard, and Sun-DURA. Cotton or Poly-Cotton are ideal for indoor storage, providing excellent breathability. Poly-Guard and Sun-DURA are both constructed from a loom-woven, marine-grade polyester that will stand up to outdoor environments. Sun-DURA provides the best water repellency and fade resistance.
Benefits of Pontoon Covers
All boats benefit from covers, whether stored indoors or out, on a trailer, or at the dock. Pontoon covers have many benefits, including:
Preventing mold and mildew damage from humidity
Preventing scratches from debris
Reducing fading from the sun's UV rays
Making it less attractive to thieves looking to steal equipment
Protect your pontoon and keep it looking and performing its best with a high-quality cover.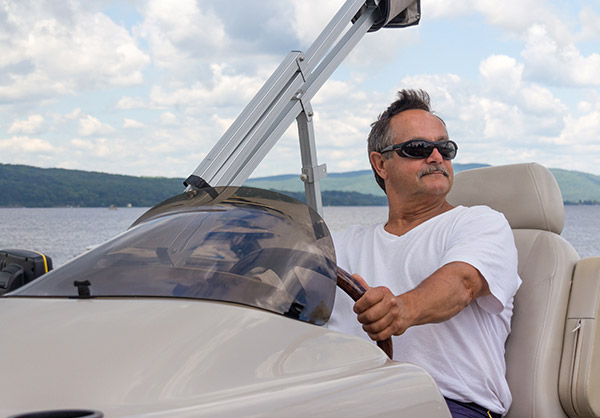 We Make Covering Your Pontoon Easy
Rather than using snaps, which are difficult to deal with, our pontoon covers utilize a shock cord (similar to a bungee cord) throughout the hem, making them easy to install and remove. Tie down loops are also sewn into the hem every 2-3 feet, ensuring the cover stays put. Additionally, snap patches are sewn into the inside of these boat covers, to facilitate our boat cover support poles, which aid water runoff. Our covers can be used for mooring, storage, and trailering.
What Our Customers Are Saying
GREAT PRODUCT ARRIVED AS SUGGESTED PACKAGED WELL . VERY HAPPY THANK YOU - Gavin P.
Fast shipping and friendly customer service. Cover fit and functioned as advertised. - Thomas A.
I had the best experience in shopping, buying and delivery of my boat cover and additional parts. Just keep treating your customers like you treated me. - Brett
Pontoon Boat Cover FAQs
There are many factors to consider when shopping for a pontoon boat cover, so you may have questions. Here are answers to the questions we hear most frequently.
Do I Need a Pontoon Cover?
A pontoon boat cover helps extend the life of your boat, by preventing damage from UV rays, mold, and debris. A cover will also reduce fading from the sun and discourage potential thieves from stealing equipment. Covers are available in universal, semi-custom and custom-fit, ensuring you get the precise protection you need.
What's the Best Pontoon Boat Cover for Winter?
If you're wintering your pontoon, your cover needs to be extra durable and provide excellent protection from the elements. We recommend Sun-DURA from Carver, which is a 100% marine grade polyester fabric made in the USA. This material was specifically developed to deliver superior water repellency and UV resistance.
Do Pontoon Covers Have Vents?
Breathable pontoon covers like Carver Sun-DURA don't need vents because the material itself is designed to prevent moisture accumulation. If your cover isn't breathable, we recommend using a vented boat cover support. Breathability or venting is essential to deter mold and mildew damage.
How Do You Measure for a Pontoon Cover?
To measure your pontoon, you'll need to get length and width measurements. To find the length, measure from the longest point of the bow all the way to the longest point of the stern, in a straight line. Include any items that extend beyond the stern, such as ladders. To find the width, measure the widest part of the pontoon boat in a straight line.
How Do I Install a Pontoon Boat Cover?
Installing the pontoon cover correctly is essential for the best protection.
Start by placing the bow end of the rolled cover on the bow of your boat and then unroll it towards the stern. Many boat covers have the tag sewn into the stern end of the cover so you can determine which end is which.
Next, slip the front of the cover over the bow and pull the cover open to the sides, working toward the back of the boat.
Position your support poles under the cover before completely covering the boat.
Pull the cover tight to get rid of sagging areas which could collect standing water.
Use the tie-down straps to secure the cover to the boat. Note: When trailering, be sure to use heavy-duty tie-down straps that can stand up to heavy winds encountered on the highway.
When you're ready to remove the cover, fold it to the center from both sides and then roll the cover from back to front. Note: You'll need to allow the cover to dry completely before folding for storage in order to prevent mold and mildew.
How Can I Clean a Pontoon Cover?
It's important to keep your pontoon cover clean since accumulated grime can affect its performance. Using a support pole will prevent water from pooling and allow you to go longer between washes. Never wash your boat cover in a machine. A soft bristle brush and water should handle most dirt and debris. If your cover is especially dirty, you may want to use a solution of one cup of white vinegar, one cup of Borax, and two cups of warm water, which you can apply via a spray bottle. Leave the solution on for 10 minutes before rinsing. Always allow the cover to dry completely before storing.